hi! Is it Wednesday already? It seems like this week is flying by, and that's A-okay with me. Nothing too busy over here, just a lot of the same…homework, babysitting, work, and just being my cool self.
Example of how cool I am #1: I have athlete's foot! Just what I wanted. Now my family makes fun of me because they think it means I have poor hygiene. Sorry not sorry if I like to run and maybee not shower for a little while after each one. Okay, that really only happens on the weekend.
Example of how cool I am #2: I share my chocolate milk with Pippa. I'll be honest, though. That was just an excuse to squeeze in a Pippa picture.
I know what you're thinking…where's all the food? It's coming! Thanks to Jenn at Peas and Crayons for hosting.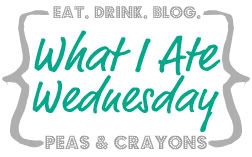 My
new
favorite breakfast is a muesli-yogurt mess with melted crunchy coconut peanut butter.
This
kind.
Fellow peanut butter fiends, how well does melted peanut butter photograph?!
On my way, I stopped at the Bux for coffee. Nothing new there, but they did spell my name right.
I'm really weird and have quite a bit of fun prepping lunches and snacks for work, so here's what it looked like all prepped:
And here's what it looked like when I got to it. That's a whole wheat everything bagel thin (TJ's for the win) with turkey, gouda, lettuce, red onion, and a little bit of mayo. Such a good combo. Also, if you're feeling rich, Whole Foods deli meat is to.die.for.
I had that peanut butter bar before Body Pump with my sis! It was good and we were totally feelin' the burn. I mean, just look at me.
I forgot to take pictures of dinner last night, but on Monday night we had shrimp and scallop tacos and they were delicious.
I also made some homemade salsa,
and cut an avocado for toppings. Because Mexican just isn't Mexican without avocado, am I right?
Okay – brace yourselves for this new snack. I think I'm a bit obsessed with peanut butter + yogurt + toppings for a nightly snack. This was 1/4 c. cottage cheese, 1/4 c. plain Greek yogurt, 1 tbsp. melted peanut butter, and a crumbled cinnamon coffee cake Fiber One bar thanks to Kailey. Plus, some chocolate chips for good measure.
I'd say this is a pretty classic day of eats for me. Have a good one!